Last week Onyx Coating attended the incredible Specialty Equipment Market Association (SEMA) show one of the industry's most anticipated in-person networking event! 
Every year, the automotive aftermarket gathers in the desert oasis of Las Vegas to display its products. Last year many manufacturers took the year off due to industry and world issues due to the pandemic, but this year many came back!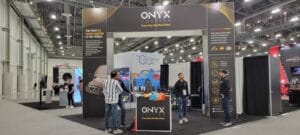 The purpose of this trade show is to connect sellers and builders with manufacturers. It is true that the show is full of flash, but there is also a lot of performance gear on display and used on custom vehicles. 
The Sema Show conference is held for automotive specialty-equipment manufacturers to display alongside automotive manufacturers to debut new, innovative products, and connect with industry buyers from all over the world.
There is no other trade show where you can see thousands of product innovations from new and iconic exhibitors, experience the latest product and custom vehicle trends, get access to 70+ free professional skill-enhancing education sessions and make career-changing connections with peers, leaders, and celebrities. 
For more information about this event head over to their website www.semashow.com
We are excited to announce that we will be joining again next year, so if you missed out don't worry, you can attend this incredible networking event next October! See you there.